Birmingham RISE Youth Forum
you are invited, get involved!
Find out more on the link above.

About us
The RISE Youth Forum formally known as the SEND Youth Forum, launched in February 2020, where by a platform was provided for 12 young people aged between 12 – 18 years from mainstream secondary schools in Birmingham.
Underpinning the framework of the forum, is promoting pupil voice and ensuring a platform is provided for the young people to voice their views, participate in discussions and decisions about policies and practices, which are affecting their life through delivery, locally and nationally at a strategic and operational level.
Unfiltered Lives – Wendy and Sam's story – video
Contact us – youthforum@birmingham.gov.uk 
Key principles of the forum are:
Raising any inequalities felt
Supporting inclusion
Raising achievements
Supporting access to learning
Providing impact
Sign post to services and key agencies within the local community. 
Our Vision
Children and young people with additional needs in Birmingham will be heard & valued. The forum will contribute to and co-produce services that reflect their wishes, feelings and aspirations for the future. Inclusion and wellbeing services will work in partnership with the forum to co-produce services, processes and systems that support children and young people to move towards the life that they want for themselves. 
What we do
We talk to professionals about the issues that affect us so that together we can make positive changes to the lives of young people with SEND. We share our views, and the views of other young people with SEND, on how local services and provisions in schools could be improved.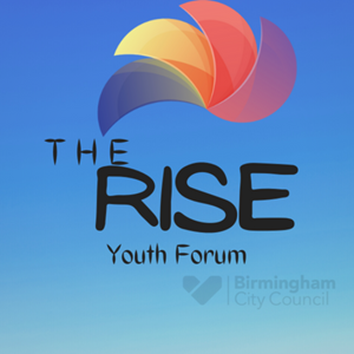 Our aims are:
to help to improve understanding of people who have additional needs,  
to work towards reducing misunderstandings about children and young people with additional needs,
to work to help all young people fulfil their potential,
to work together to help each other using our own experiences and get the views of children and young people with needs to support and empower them 
Members of the forum meet regularly, together with members of the Council's Inclusion Team and local councillors.
Why the SEND Youth Forum is important to me:
"This forum is important to me because it enables me to identify the different needs children may have in mainstream schools and how they deal with them. We can also discuss any problems we may have and find a solution to make our education life easier and to be treated as an individual rather than be labelled with our special education need."
"I think it is a huge honour to be part of something so important and to be able to have such an impact where needed, at such young ages! I want to make as much of a difference where I can, and I love to discuss issues, ways to resolve them, and how I can improve the world around me."
"I really enjoy working as part of the SEND Youth Forum because it really inspires me and I am interested to see what more we can do together. We talk about what is and is not going well in schools and we work well collaboratively and talk to one another without feeling uncomfortable. We have a voice where we are able to talk about the outside community and say what we feel is right or needs doing."
What have we been up to?
The RISE Youth Forums latest venture has seen them embarking on a campaign tilted #AddtionalNotSpecial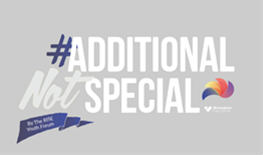 The young people have created a petition to lobby central government proposing that the use of "Special Educational Needs" in the Children & Families Act (2014) and Code of Practice (2015) is outdated and should be removed. It does not accurately describe provision that many children need. It should be replaced with the more appropriate term "Additional Needs".
To find out more information and to sign their petition please go to https://petition.parliament.uk/petitions/584547   
The young people have also created a video focusing on four questions including:
What's working well in schools?

What's not working well in schools?

Why we don't like the term SEND?
A message to my teacher!
To view the video please click here