What should I expect?
DOWNLOAD this information here

After your referral is made, it will be screened to ensure that we have all of the information needed to assist you and to ensure that we can prioritise your case.
If you require urgent medical assistance or are in danger, please contact your local emergency service for urgent advice.
You may receive a letter, dependent on wait times to advise you that we have received your letter. It is important to know that we can often receive a lot of referrals which may increase waiting times.
You will be contacted by one of our Occupational Therapists (OT) as soon as possible. They will introduce themselves and may ask further questions to inform how we can support you further.
The Occupational Therapist will arrange either a face to face or virtual appointment in order to carry out your assessment.

In carrying out your assessment, the Occupational Therapist may ask questions to create a picture of you and your family. We may ask;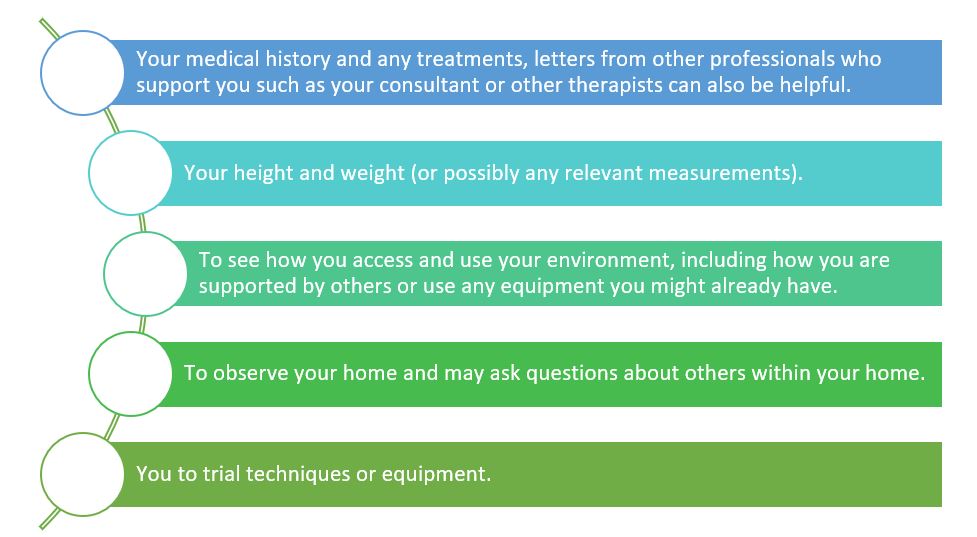 Your Occupational Therapist will take all of the information you have provided alongside observations and will use this information to identify your needs. Your Occupational therapist might need to speak to you or see you more than once, may want to liaise with other professionals or schools and might want to test any ordered equipment in person as part of this process.
Once any recommended advice, referrals or equipment have been completed your Occupational Therapist will send you a letter to confirm the outcomes of your assessment and any important information which will conclude the OT's input.
You may need to come back to us, should the situation change, or you require further advice, you can contact the service via our advice and duty telephone line or email.
Contact
DUTY & ADVICE LINE – 0121 303 3865