Working Together Well in Birmingham Project (October 2021 to July 2022)

Background
The SEND Local Area Partnership (Birmingham ICS (NHS), Birmingham Children's Trust and the Birmingham Children's Partnership, alongside the Parent Carer Forum and RISE Youth Forum) undertook the "Working Together Well" to better involve Children, Young People and their Families from the beginning in making improvements to SEND services in Birmingham.
The May 2021 Ofsted Inspection Revisit noted a need to improve Parent Carer Engagement, and Satisfaction and to further embed 'co-production' in the area. This project was established to begin to address those concerns.

Co-Production Framework and Charter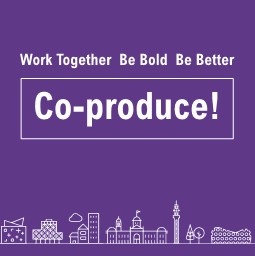 Co-production is now accepted as key to developing effective public services. It is about children, young people, parents and carers being treated equally and playing a more powerful role in the public services they receive.
The key thinking was "nothing about us without us", that listening to and involving people using services is key to improving them, involving children, young people and their families in service improvements from beginning to end, and ensuring their voices can be heard and equally influential.
Working with Parent Carers, Young People, and the Local Area SEND Partnership, has co-drafted and signed a Co-Production Framework and Charter.
Co-Production Framework and Charter – short version
Co-Production Framework and Charter – full version
Organisations. There will be an evaluation of this in December 2022. Please consider what you will do to really deliver and embed these commitments. Please also sign it by emailing  SENDImpComms@Birmingham.gov.uk


Engagement and Surveys
We also did lots of engagement and surveys to try and understand what parents and carers thought about SEND services and support and how to improve them.
Thank you to everyone who took part in our SEND survey for parents and carers.  
Parent Carer Survey Summary Final
May 2022 Parent Carer SEND Survey Report
Here is a summary report of the engagement events that were held with parents and carers – Feedback Report Parent Carer Engagement Workshops.
Children and Young People's Survey – ongoing, please fill in
Since July, there have also been recent events and surveys ongoing to better understand young people's views. Please access the surveys below until September 9. We will The survey will close on Friday 9 September. The links are
https://forms.office.com/r/X1mxxNNPdB (Ages 12-18)
https://forms.office.com/r/F5E0pKzE80 (Ages 18+)
Next Steps
From July, co-production will become a systemic programme-wide activity reporting to SEND Management Group monthly, no longer a discrete 'project' or 'objective' going forward. Because it is everyone's business.
We are  'keeping the foot on the gas'. Over the summer and beyond we will continue activity to:
'Walk the walk' in relation to Birmingham's current SEND Improvement Programme activities. Project leads and the Improvement Team are continuing to undertake practical co-production activities under Objectives 1, 2 and 4.
Develop a Youth Participation Strategy and complete the Youth Survey.
Draft a Co-Production Guidance/Toolkit working with Education, Health and Social Care Colleagues and the Co-Production Champions for Officer use.
Support Reference Groups to ensure they become stand-alone and self-sustaining by the autumn, in areas such as Youth Engagement, Parent Carer Forum Liaison, Co-production Champions Network development and Measuring Success Group
Progress proposals for a fixed-term/permanent SEND Participation and Co-Production Officer (Co-Ordinator) post from autumn.
Prepare for a 6 monthly Framework review and parent-carer survey re-run in November (or plan with PMO for this at least in September). Workstreams and agencies should be considering now the evidence they will collect to demonstrate impact in this area.
Next Steps PowerPoint Presentation
Mapping SEND Co-Production in Birmingham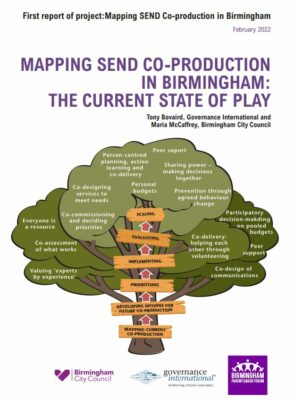 The first phase of this project (October – December 2021), mapped and analysed 48 current and recent co-production activities in Birmingham relevant to children and young people (0–25 years) with Special Educational Needs and Disabilities (SEND) and their families. This report contributed to the development of the Birmingham SEND Co-Production Framework and Charter.
Report: Mapping SEND Co-Production in Birmingham: The Current State of Play (Tony Bovaird and Maria McCaffrey, February 2022)
Mapping Options to Embed Co-Production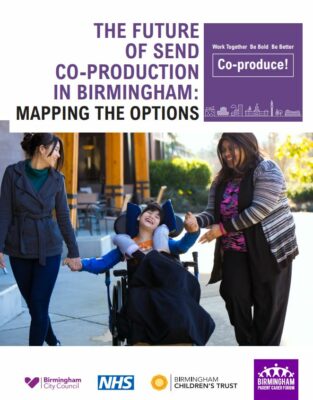 Building on the first report and the Birmingham SEND Co-Production Framework and Charter, between January and July 2022 Governance International was commissioned to map the options for embedding co-production in Birmingham SEND services and support systems by widening and deepening it and making it more effective, working with children and young people with SEND, their parents, carers, children, young people, professionals and community members
The Future of SEND Co-Production in Birmingham: Mapping the Options (Tony Bovaird and Maria McCaffrey, July 2022) – Executive Summary
The Future of SEND Co-Production in Birmingham: Mapping the Options (Tony Bovaird and Maria McCaffrey, July 2022) – Full Report
Mapping Options for SEND Co-production in Birmingham (July 2022) – PowerPoint Presentation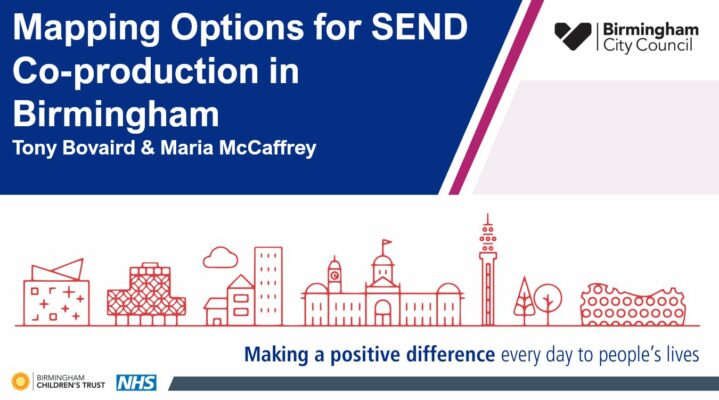 .