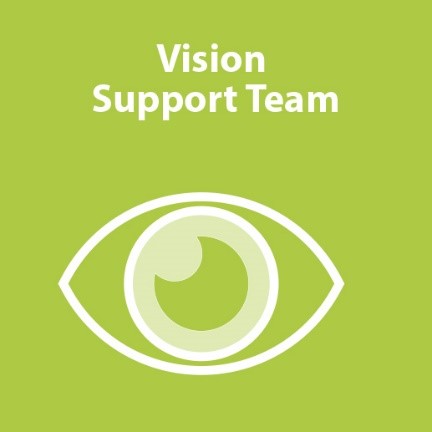 The Vision Support Team provides specialist teaching and support to children and young people from birth to 25 years who have an identified vision impairment.
We work with families, in schools and settings to remove barriers to pupil's learning, social interaction and help them to develop independence.
Vision Support Leaflet for Parents and Carers
Vision Support Leaflet – Word (accessible download)
Education Habilitation Service Leaflet
Videos you might find helpful
Coping with visual impairment – Theo's Story – BBC Teach – from BBC series 'Same but Different'.
Screen reader videos – RNIB – See differently
Apple accessibility videos – RNIB – See differently
Who are the Vision Support Team?
The Vision Support Team is one of the Birmingham City Council SEND (Special Educational Needs and Disabilities) support services, supporting children and young people with vision loss.
We consist of specialist Qualified Teachers of Vision Impairment, specialist Teaching Assistants, Habilitation Officers (mobility and life skills), specialist IT Technicians and Reprographics Officer (Braille and Large Print).
Who do we support?
Children and young people from 0 to 25 years with a diagnosis of a vision impairment.
Where do we support?
Family homes
Early years settings
Schools – mainstream and special
Colleges
Do you work with other professionals to help my child?
Yes – we work closely with health professionals including ophthalmologist and optometrists.
Who can refer children for support from the team?
We receive referrals from Ophthalmologists, Optometrists, Opticians, schools and settings, other professionals and parents.
What support do we offer?
Help to understand your child's vision loss and how it affects your child
Support with low-vision aids
Emotional support for you and your child
Training to adults working with your child
Support around starting or changing nursery or school
Assessment of your child's functional vision
Setting goals
Written guidance on how best to support your child
Working with other professionals who support your child
In-class observations
Individual teaching sessions
Understanding their own vision loss (for older children)
Opportunities for children with vision loss to meet other children with vision loss
We will share information about local support groups and voluntary agencies.
How to access the service
Talk to the Special Educational Needs & Disability Coordinator (SENDCo) at your child's school or setting,
Visit the website or contact ssparentenquiry@birmingham.gov.uk
If you are a professional an believe a child or young person meet our criteria, please use the following referral and consent forms.
SPECIALIST SEND SUPPORT SERVICES