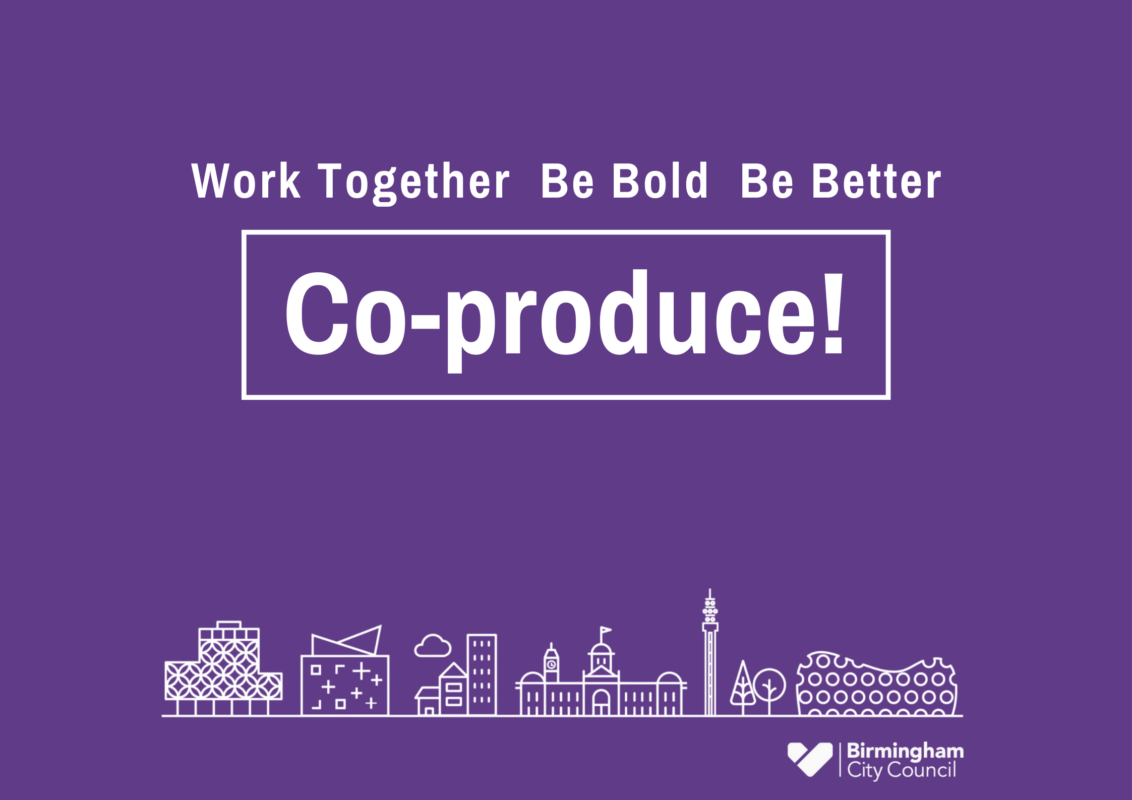 What is Co-production?
Co-production should be considered as moving beyond involvement, participation, and engagement with SEND children and young people, parents and carers, towards something that is about people who use SEND services being treated equally and having a more powerful role in the services they receive, so that their experience of these services is more meaningful and more in tune with what they need.
There is no single agreed definition of co-production in the public services system, either in the UK or internationally. However, the Birmingham SEND Local Area Partnership has consulted widely with parents and carers to build a local definition that works for them. From this process, the following definition has emerged:
"For us, co-production is about placing equal value on the contributions of children, young people, parents, carers, and professionals in making decisions and improving the services received and the experiences and outcomes of those living with SEND in Birmingham. 
Co-production therefore requires involving people in an open and inclusive manner right from the very start of their experiences with public services, as a means of building and maintaining trust, so that they can contribute fully to the commissioning, design, delivery and evaluation of services and outcomes."
The Birmingham SEND Local Area Partnership
The SEND Local Area Partnership, made up of different organisations around Birmingham, is committed to ensuring that children, young people, parents, and carers engage in the improvement of SEND services across the city. The partnership is comprised of the following organisations:
Birmingham City Council
The Birmingham Parent Carer Forum
Birmingham Children's Trust
The Birmingham and Solihull clinical Commissioning group
Rise Youth Forum
Birmingham Children's Partnership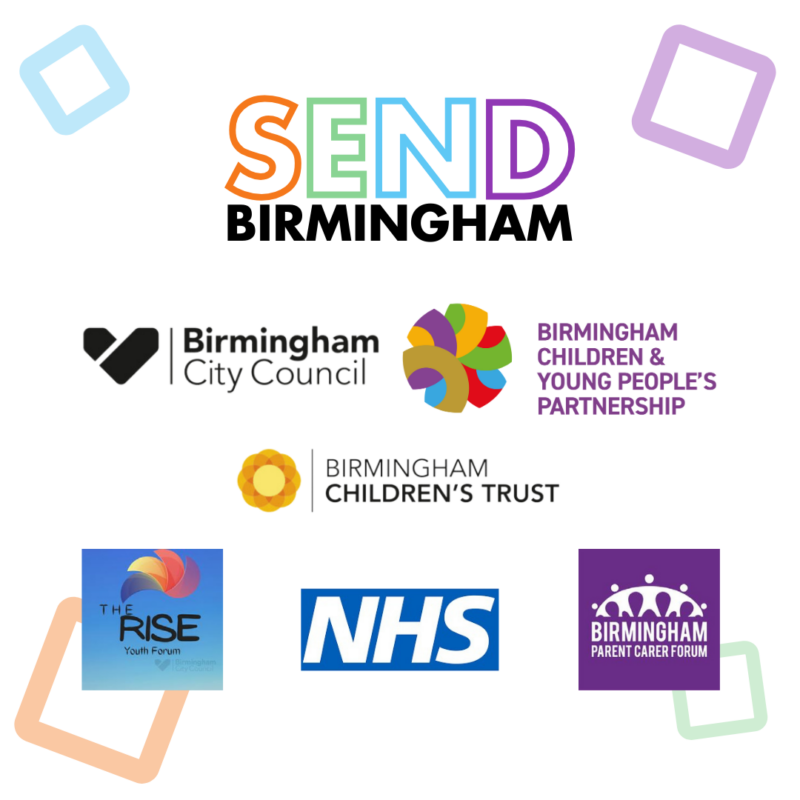 Co-production Framework and Charter
Training and Events

Skill Sharing Seminars
During May and June 2023, we organised six Co-production Skill Sharing Seminars
The sessions created a learning environment for practitioners to discuss:
How to overcome barriers to co-production and share learning and good practice
Become better equipped to champion co-production in their settings
Discuss how to effectively co-produce with children and young people and parents and carers
Raise awareness of the Birmingham Local Area Partnership Co-production-framework-and-charterand discuss how its principles and pledges can be embedded within everyday practice
Over 120 participants took part in these sessions with representatives across education, health and social care and voluntary sector.
You can access the session presentation by clicking the link below
Co-production Skill Sharing Presentation
We also record elements of the sessions which can be accessed below:
Events and Webinars
Check out the Events and Webinars page on the Local Offer to keep up date with events related to SEND across Birmingham.
Co-production week
National Co-production Week took place from Sunday 2nd July, running throughout the week until the following Sunday. This incredibly special week saw hundreds of officers, partners and citizens come together to share mutual learning and understanding of what co-production is and what difference it makes to the services we deliver and to the communities we support.
To commemorate co-production week, we asked our young people in the RISE Youth Forum what they thought of co-production in Birmingham
Resources for Parents and Carers
EHCP Booklet
EHCP Booklet
Birmingham Parent Carer Forum (BPCF) collaborated with staff from the SENAR team to co-produce an EHCP booklet for parents and carers. The aim of the booklet was to guide parents and carers through the process of applying for an EHCP in a clear and easy to understand format whilst also informing them where they can seek support whilst in the process. BPCF is now in the process of Co-producing a booklet with SENAR that will look at annual reviews.
Local Offer Parent and Carers Hub
Local Offer Parent and Carers Hub
The Local Offer website has a central hub for parents and carers to access all relevant SEND information, from education, health, early years support, and much more . To find information for parents and carers, use the link below.
Tools for practitioners 
The below frameworks, toolkits and award schemes can all be used to support practitioners and organisations capture evidence and demonstrate the impact of co-production.
The Co-production Tool Kit
This co-production tool kit has been developed by the SEND Local Area Partnership, the RISE Youth Forum, the Youth Empowerment Squad (YES! group) and Birmingham Parent Carer Forum. It is designed to help partners to create the best possible services for users.
Co-production Guides
The Community Of Practice (COP) have created a Co-production guide and presentation which can be accessed via the links below:
Rotherham Genuine Partnership
Rotherham Genuine Partnership
The Four Cornerstones (also known as The Rotherham Charter) were co-produced by Rotherham parent carers and practitioners and are based on stories of experience told by children and young people with SEND and their families. By embedding the Cornerstones in systems, policy and practice trust builds, relationships will be strengthened and co-production becomes more meaningful:
SEND Surveys and Engagement
SEND Policy and Strategies
We want parents and carers of children and young people with Special Educational Needs or Disabilities to be confident in the services provided to them. View the page below to find further information about the policies that shape these services as well as information about the work we are doing to improve SEND across the city.
Our Vision, Policy and Improvements | Local Offer Birmingham
SEND and Inclusions Strategies
Launch for the SEND and Inclusion Strategies 10th July 2023, in line with Birmingham's Children and Young People's Partnership: Change for Children and Young People 2023-2028'
Co-production Award Scheme
The purpose of developing this Birmingham Co-Production Award Scheme is to:
Raise awareness and create practical steps to embed the Co-production-Framework-and-Charter across all Birmingham Services.
Strengthen the voices of children and young people and parents and carers.
Capture, recognise, measure the quality, and celebrate co-production activity.
Fulfil our legal responsibility under the Care Act 2014 Statutory Guidance states that 'Co-production should be a key part to implementing the Care Act'. Co-production should therefore be 'built in' and not 'bolt on'!
 To find out more about the Award schemes and is varying stages, please click onto this presentation link
Next Steps
Further co-produce the 'SEND Co-Production Award Scheme' with children and young people and parents/carers so that the Co-production Framework and Charter can be firmly embedded across the city.
Ensure more active involvement of parents and carers and children and young people in the co-production of SEND services across education, health, and social care.
Continue to make improvements to the internal and external communication mechanisms between the Local Area Partnership and SEND parents/carers and children and young people.
Develop the parent/carer voice – continue to work with and strengthen the reach and capacity of the Birmingham Parent and Carer Forum and other parent support groups across the 10 localities of the city.
Embed more co-production working across the SEND workforce through continued training and skills sharing seminars, examples of good practice and lessons learned.
Enable SEND parents and carers and young people to Co-produce with senior leaders and Cabinet members so that Co-production takes place at all levels.
Ensure that education, health, social care, and voluntary sector providers continue to work with young peoples' groups such as RISE Youth Forum, the YES Group, the Youth Service, Think4Brum, Youth Ambassadors and other voluntary sector youth forums.
Together with parents, carers, children and young people, co-produce a SEND conference highlighting achievements and impact (July 2024).
Support the priority work areas of the Birmingham SEND Co-production Champions Group.
Continue to support co-production within the Learning Disability and Autism (LDA) Framework for Change 2023 -2033 and other initiatives such as the Youth Service Youth Ambassadors and UNICEF Child Friendly Cities Award.